Assignment
Five identical piece. Learn how to optimize process.
make a plan
plan A
A wooden frame of cube with stairs inside, like Escher's contradiction space.
But I realized five pieces of cube frame mean 60 wooden sticks…So I came up with plan B.
plan B
Wooden lock, aka Kong Ming Lock or Ruban Lock.
I used to play it with my grandpa a lot when I was a child. It is a bit like some wooden joints in Chinese triditional architecture, called 榫卯结构.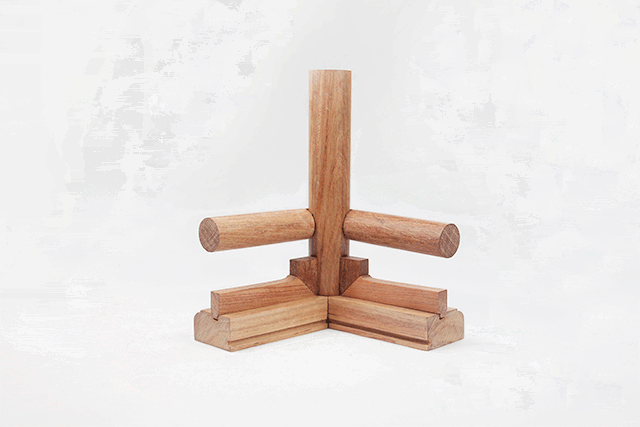 Back to my homwtown there still exists a tower built out of pure wood(not a single nail) around 1000 years ago. And it is still functional.
start!
step 1: materials
Bought whole bunch of stuffs. But just use sticks.
step 2: cut cut cut
First, I decided to build one for test.
Cut a long stick to 6 short ones.
step 3 : mesurement
Calculate which face need to save and which one need to cut, then got a cutting order.
step 4: decide how to cut using band saw
I confronted some problem here. How to use band saw to cut this line?
At first I tired to drill a hole on it, then use a knife to get other parts away.
But it was such a drudgery. Cost me a lot time.
Then I used the band saw to cut it into slices. And used my hand to get rid of them, then used the band saw to cut off the remains to make the face smooth.
step 5: filing
Then I clamped and filed them. It took some time to make them fix each other. But tada~
step 6: make 5 of them
The rest is very fast to make as I am familiar with the process.